Filament Spectrum PLA Pro
Improved heat resistance and high impact strengt
Spectrum PLA Pro is a material based on modified PLA dedicated to the manufacturing of filaments for 3D printing. Through the orientation of the chemical composition of the material to achieve satisfactory properties required for additive manufactured items, the advantages of PLA and ABS were successfully combined. It is thus feasible to obtain a high impact resistance of printed items with a high tensile resistance and substantial rigidity, which is typical for PLA-based materials.
The changed chemical composition has improved the flowability of the material, making the filament suitable for industrial application which requires good mechanical strength properties, high printing efficiency and first of all the possibility to increase the printing speed in order to boost the additive manufacturing process capacity.

Post annealing:
Filament PLA Pro can be treated at high temperature using a heating chamber. After the model crystallizes, it is characterized by increased thermal resistance (up to 85°C) and almost twice higher resistance than standard ABS.
*Uneven heating can lead to unexpected deformation and sub-optimal performance of printed parts, please ensure absence of hot / cold spots in the heating chamber. Typical time to anneal parts with a wall thickness of approx. 3.2mm is on average 20 minutes.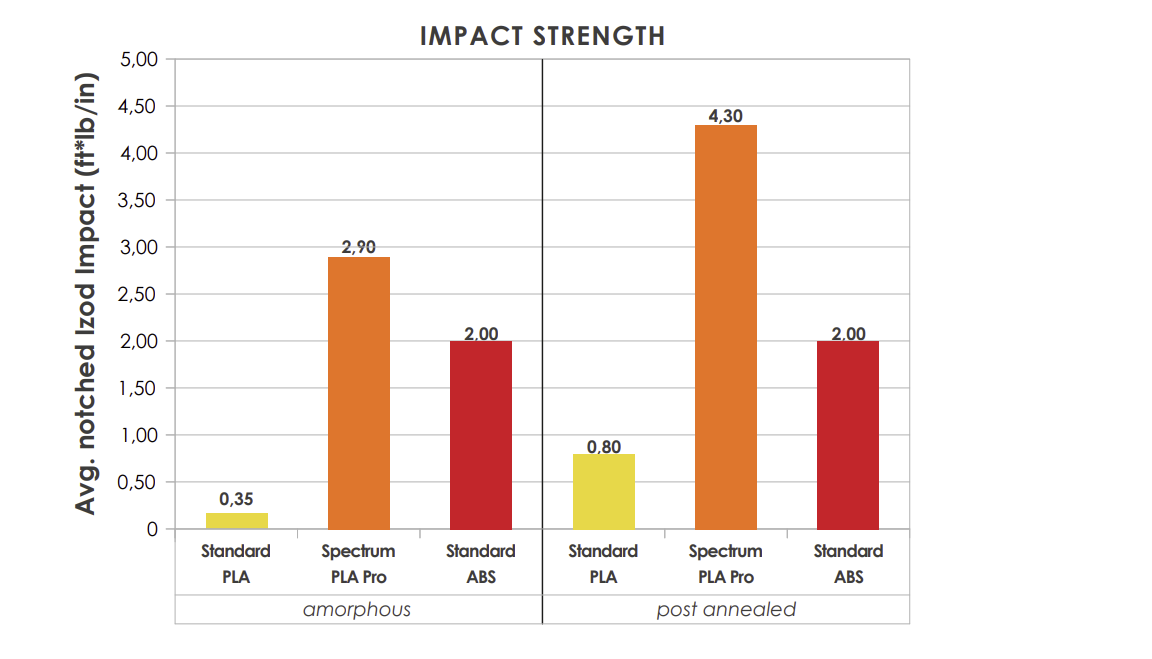 Key features:
good alternative for styrene-based materials

increased thermal resistance (up to 85°C) – post annealed

extremely high impact resistance as compared to classic materials based on PLA

impact resistance nearly 50% higher than classic ABS material)

high durability comparable to ABS prints

higher process capacity due to the possibility to increase the printing speed (as a consequence of improved flowability)

perfect side surface

better adhesion between layers allowing for smoother side surfaces

easy separation of the object from the bed
Applications:
functional prototyping

tooling

concept and demo prototyping of designed finished and semi-finished products

industrial design

parts that require high impact strenght
Packaging
Filament is reeled on the neat, transparent spool. Each spool contains information on the type of material, diameter and recommended printing temperature. Filament is vacuum-packed with a moisture absorber. Whole product packed in the original, folied Spectrum Filaments packaging.
Color

:

Blue

Spectrum color name

:

Navy Blue

Diameter

:

2.85mm

Dimensional tolerance

:

± 0.03mm

Verify your spool - preview of the diameter course on the entire length of the spool

:

YES

Density

:

1.22 g/cm³

Net weight

:

1000g

Total weight

:

1400g

Recommended print settings

Printing temperature

:

185-230°C

Heated bed

:

necessary

Heated bed temperature

:

0-45°C

Printing speed

:

40-150mm/s

Closed chamber

:

Not necessary

Outer diameter

:

200mm

Width

:

67mm

Inner diameter

:

52mm

Empty spool weight

:

± 250g
Standard manufacturer warranty - Warranty is granted by the producer for a period of 12 months.
Standard manufacturer warranty